THE BREASTSCAN METHOD IS THE BEST NOVELTY IN THE MEDICAL FIELD.
The RES Institute has received numerous eminent awards for the introduction of the BreastScan method in Europe and elsewhere in the world. Based on clinical trials, today the method is used in more than 100 clinics around the world, mainly in the US, Canada, Australia and the UK.
Slovenia actively participated in the introduction of the method into the European market and its use for medical purposes. Mag. Ivan Zrimšek from the company RAMED, Medical Methods Development from Komenda, has received numerous awards and recognitions for it.
Geneva International Novelty Fair 2005
On this Fair, in addition to the gold medal, it also received a special award for the best medical innovation. 182 exhibitors from all five continents participated in this category (Medicine).
IENA Nurnberg International Novelty Fair 2006
MO-GY Health Center and RAMED, Razvoj medicinskih metod d.o.o. in collaboration with the RES Institute for Microwave Technologies from Moscow received the Global Dimension Award for the BreastScan Method in Nuernberg. In addition to the gold medal for medical innovation, the BreastScan method has received the highest award – Grand Prix, awarded by the European Innovation Association AEI .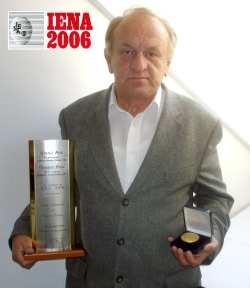 At the IENA Fair in Nuernberg, 640 novelty items from 40 countries were presented, most notable were strong teams of Germans, Russia and the Far East. The award received is the highest award Slovenia has received at fairs of this type so far.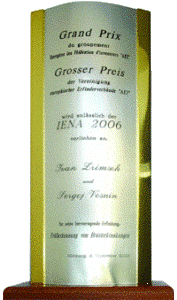 MO-GY, together with the Moscow RES Institute for Microwave Technologies, began developing the early detection system for breast disease in 1994 and the first prototype was made in 1996. Clinical researches were carried out in 1998-2000 in Russia, on the basis of which they received a certificate with permission to use the method in medicine.
It is the only device on a global scale that can be used for non-invasive measurement of temperature in tissue depth. The device can identify disease processes long before structural changes occur, and thus alert about the process to the earliest stage of the disease. Because the method is non-invasive, it is also useful as a preventive method for younger women under 40 (mammography is not recommended for them) and is thus practically the only method with which those women can check their health status.